Live Entertainment produced by the Hurrah Players
Norfolk, Va. – Primeplus Senior Center's 2nd annual Dinner Theater and fundraising event will dish up a live show, food and fellowship on Friday, May 10, 2019 at 6 p.m. at the Norfolk Masonic Temple, 7001 Granby St. Norfolk, Virginia.
Come prepared for glitz and glam. You are in for an intergenerational/unique musical revue produced by Hugh Copeland, food galore and never seen before decorations. The momentum is building to an awesome and glamorous night. You will want to be part of this evening of glitz & glam, get your tickets now (click here) and explore the stars in costume on May 10.
Feel free to invite friends, relatives and strangers. Remember, it is the Friday night of Mother's Day weekend so it is a great way to start the celebration with Mom.
Tickets to the two-act show include $100 for a themed seated dinner or $50 for tasty hos d'oeuvres and balcony seating, Beverage tickets come with your paid reservation and the cash bar will be stocked with wine, beer and our special Signature Drink. Tickets can be purchased at www.eventbrite.com or at the Primeplus main office.
Primeplus needs volunteers and support from sponsors to help make this year's Dinner Theater event an even bigger success! Anyone interested in tickets, volunteering or sponsorships should call (757) 625-5857 or visit www.primeplus.org.
You're going to want to get your tickets now. This show will sell out.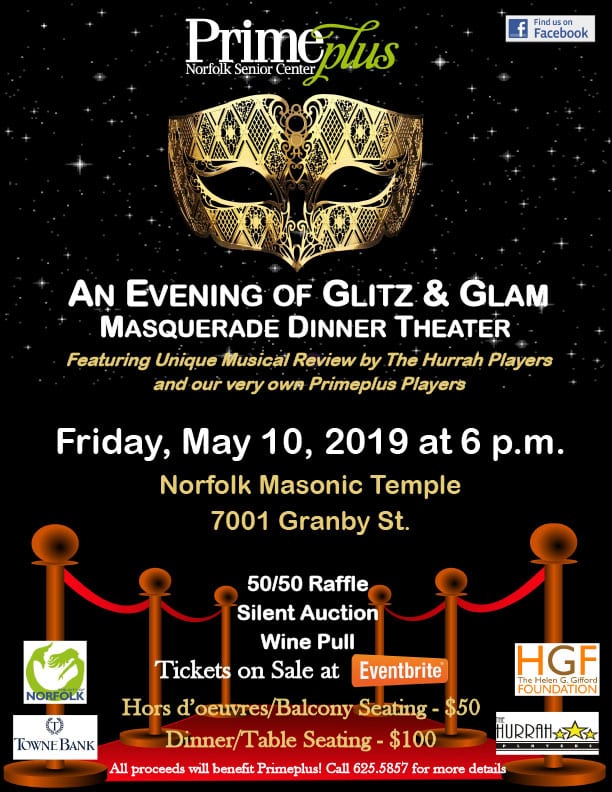 Primeplus Senior Center located at 7300 Newport Ave. in Norfolk has been serving Southside Hampton Roads seniors, ages 50+, for 50 years. It provides opportunities for seniors to learn, grow and participate in activities that meet their social, emotional, physical, intellectual and economic needs. Services include a wide variety of programs and classes for Active Adults as well as Adult Day Services, which supports those who are in need of respite and social assistance including those with Alzheimer's and/or dementia. Primeplus is a 501(c)3, not-for-profit.
Primeplus is a not-for-profit corporation operated by Norfolk Senior Center and serving the citizens of Hampton Roads since 1968.